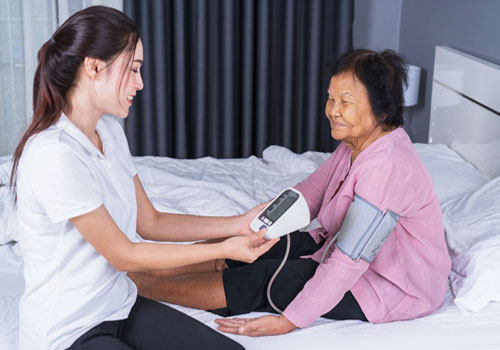 Caregiving
Learn about caregiving issues such as medication management, diet, nutrition, personal care, hygiene and home modifications.
About this course
The need for caregiving in Singapore is increasing due to changing healthcare and social needs. This module is developed to help those who want to know more about caregiving.
Caregiving module focuses on the importance of caregiving and how learners can manage the following relevant issues: Medication Management, Diet and Nutrition, Personal Care and Hygiene and Home modifications for the safety of the elderly. Caregiver stress and the available community support services are also discussed.
Participants who have completed the graded quizzes and obtained a passing score of 50% will be eligible for Certificate of Participation. The download link to the Certificate will be available under the Progress Tab in the course site.
Course Access Period
Please note that this is an online self-paced asynchronous course where learners will be granted two months of access from the enrolment date. Do also note that the course tile may take up to 48 hours to show up on your dashboard after purchase, and your access will start after it has been made accessible.
What you will learn
On completion of this module, you will be able to:
Explain what caregiving entails and its importance.
Identify contributing factors to caregiver stress and ways to manage them.
Explain the importance of managing elderly persons' medication, diet and nutrition, personal care and hygiene as well as their safety at home.
Describe how caregivers can support elderly persons in managing their medication, diet and nutrition, personal care and hygiene as well as their safety at home.
Identify available community resources for caregivers.
Course Staff
A/Prof Goh Lee Gan
Honorary Fellow (Visiting Consultant) to Yong Loo Lin School of Medicine, NUS; and National University Hospital, Singapore.

Biography
A/Prof Goh Lee Gan graduated with a distinction in Social Medicine and Public health at University of Singapore (presently known as NUS) and subsequently underwent training in internal medicine, culminating in the Master of Medicine. In 1987,

A/Prof Goh left private practice to join the then National University of Singapore. He taught Public Health, and Family Medicine at both the undergraduate and postgraduate levels. He is presently an Associate Program Director in the National University Polyclinics Family Medicine Residency Program.

A/Prof Goh is ... a Past President of the College of Family Physicians Singapore, and Past Regional Vice President of the World Organisation of Family Doctors. He has 60 publications cited in the PubMed literature on Family Medicine and Public Health. Together with Prof Kua and several other colleagues in the Department of Psychological Medicine, they developed the NUS Age Well Everyday (AWE) programme in 2015 and piloted in Queenstown Community Centre. The programme has now been extended to six community centres in Singapore namely, Queenstown, Eunos, Tampines Changkat, Bishan North, Hougang and Chong Pang as of 2019.